College organised a Seminar titled "India: A Mother of Democracy" to celebrate Constitution Day on 26th November, 2022.
| | |
| --- | --- |
| Name of the Event | Constitution Day Celebrations |
| Conducted by | Internal Quality Assurance Cell |
| Date | 26th November, 2022 |
| Venue / Online Platform | Conclave II |
| Activity Falls under Criterion / Criteria | Criterion VII |
| Convenor | Mr. Ravi Bari |
| Co-Convenor (if any) | Dr. Sheeba Rajan |
| Number of participants benefitted | 91 |
The Internal Quality Assurance Cell of Pillai HOC College of Arts, Science and Commerce conducted various activities as part of 73rd Constitution Day (Samvidhan Divas) Celebrations on 26th November, 2022.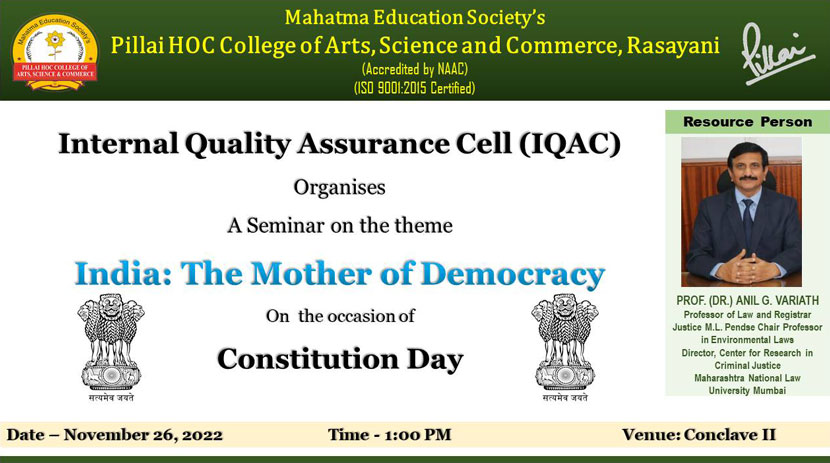 The Preamble to the Constitution and the Fundamental Rights were read out by students in all classrooms at 11:00 a.m. in the morning. A Seminar was conducted on the topic "India: The Mother of Democracy" at 1:00 p.m in Conclave II. Prof. (Dr.) Anil G. Variath, one of the eminent legal professionals as well as the Professor of Law and Registrar of the Maharashtra National Law University, Mumbai was the Resource Person for the seminar.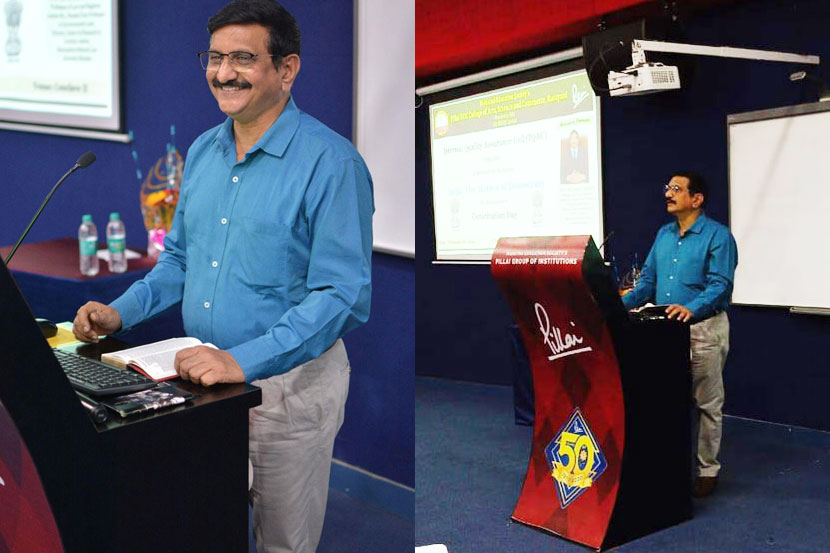 Dr. Anil G. Variath elucidated on the history of Indian Constitution and emphasized the role of Constitution as a dynamic document in ensuring the plurality of voices to enhance democratic values.
The session ended at 3:00 p.m.